We live in a global age and are blessed with many service opportunities near and far. What a beautiful thing for us all to be connected in such a way!
With this opportunity sometimes comes guilt, and a feeling that we are never doing enough. I hope that you look for ways to serve in your sphere of influence, but I also hope you are mindful of the current season of your life.
If you already have full days spent caring for others, don't feel guilty because you aren't volunteering for a worldwide charity organization. Serving in your family is one of the most beautiful things you can do to contribute to society!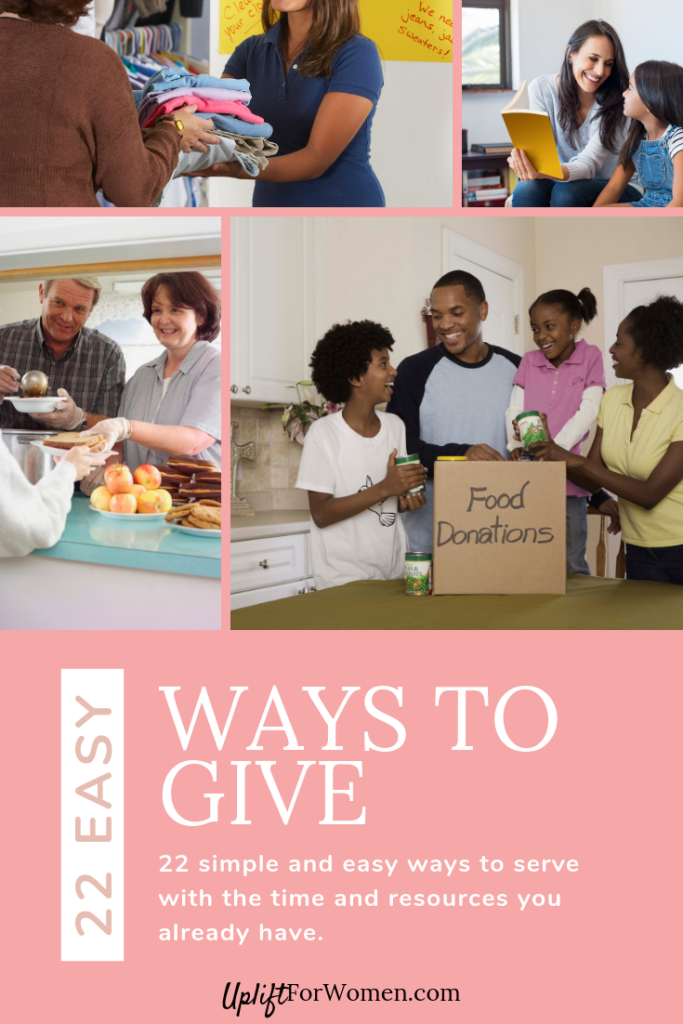 So…WHY serve?
The obvious answer is also the best one – to lift those around you. Here at Uplift For Women, that's what we're all about! There are, at any given moment, people around you who need what you have to give.

Maybe it's that second bedtime kiss. Perhaps your friend needed your listening ear and gentle hug desperately when you happened to walk past her house. Maybe that mama at the store with her raging 3-year-old REALLY needed your accepting glance. Or maybe your mom really needed the connection your phone call provided.

Whether those people happen to be your children, your spouse, friends, neighbors, or complete strangers, you are going to have a unique way of inspiring and uplifting them at a time when no one else can.

Listen to your instincts and you will know how, when, and who you should serve. But you'll probably never understand the far-reaching effects your goodness has had on those around you. Don't underestimate your power for good in this world!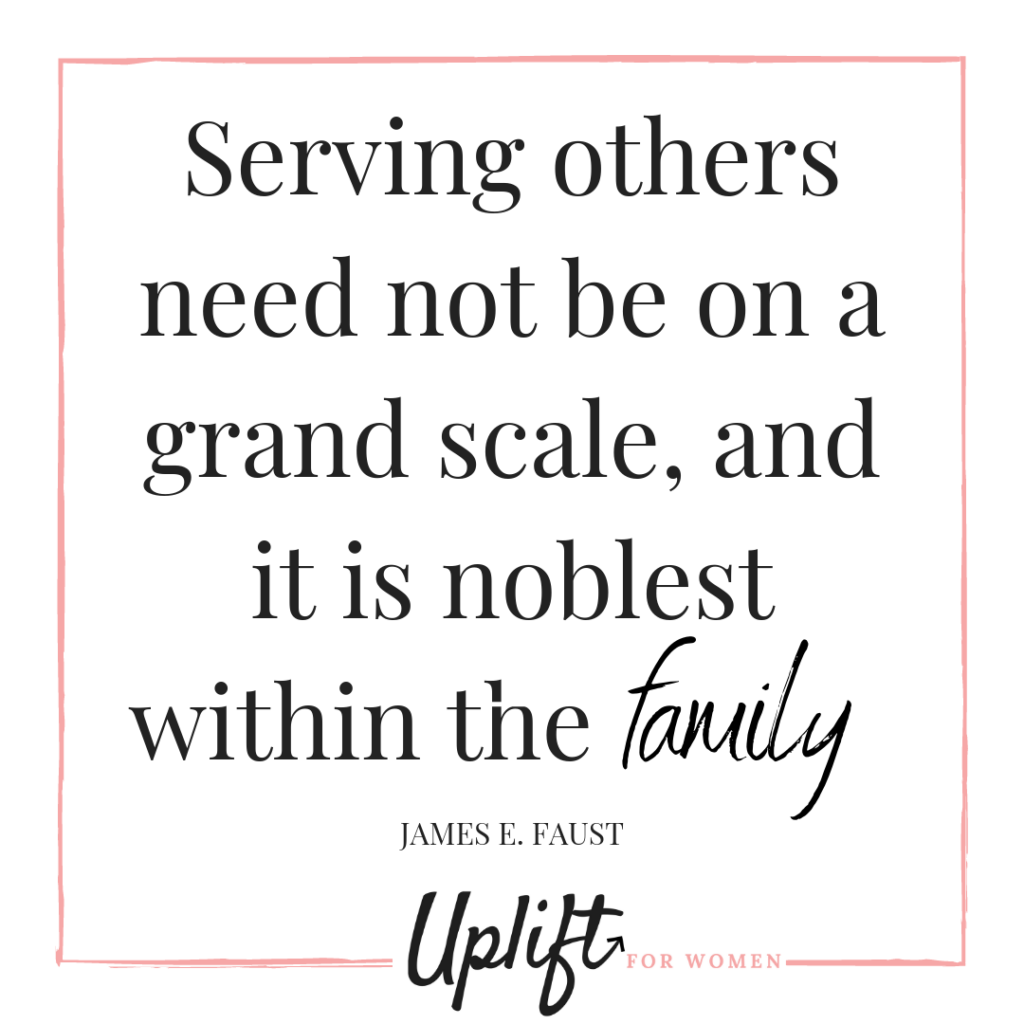 First, be mindful of the needs of your family, your neighbors, and those you can influence within your sphere. Remember to care for your own needs, too!
This guide is intended to provide an easy resource for you if you feel like you have a little extra time or resources.
We hope you find it helpful, and also hope that you will comment below or reach out to us via our contact form if you have any other organizations to add to the list. We love supporting organizations that empower and uplift women and communities!
Thank you for inspiring the women around you by your daily service. You are doing more good than you think you are, and touching more lives than you know.
Disclaimer: These service opportunities are listed for informational purposes only. They are resources that I have either personally donated to or worked with, or organizations I believe to be trustworthy. I cannot personally endorse or guarantee any of the service opportunities listed on this page, and am not responsible for anything that occurs after you leave this site.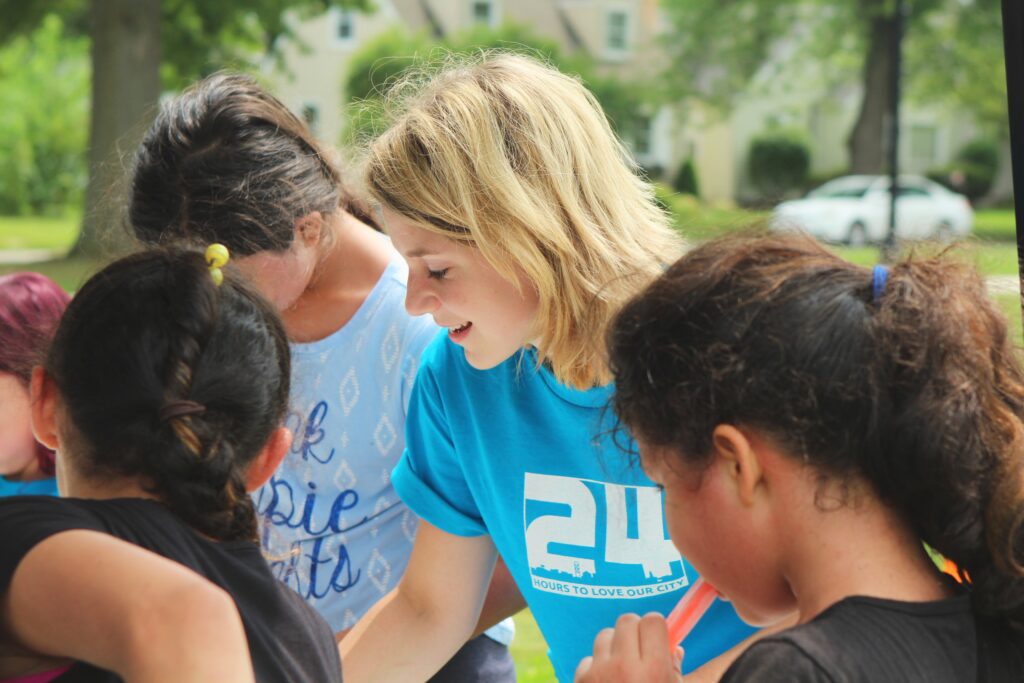 donate your time
Just Serve is a great place to start helping in your community! You can search by city, state, or zip to locate service opportunities near you. Each opportunity has a short description and information on how to get involved, and there are LOTS of options!

You'll find everything from a local homeless shelter asking for a simple food or paper donation to opportunities to serve on a board for a local mental health organization – there is really something for anyone.

You can save the ones you're interested in by clicking the heart icon. Some of the opportunities are perfect for individuals or families, others are great for service projects with a larger group.


Visit a local nursing home or assisted living center and read, sing, or visit with the residents. Call ahead to determine the needs, how you can help, and the best times to go. This article on how to volunteer at a nursing home has some great ideas!


Volunteer at your local elementary school. If you have a child in elementary school, offer to help in your child's class! Most teachers love having help with classroom activities or with office work like cutting, stapling, etc.

If you don't have elementary aged children, most schools are also looking for people to read with kids who could use a little extra practice.


Bake and deliver cookies to a friend or neighbor. This is a great activity to involve the kids!


Donate blood. You can find opportunities to donate blood at a location near you by going to the Red Cross website.


If you are unable to donate blood (or just don't want to), you can help the Red Cross as a volunteer. Over 90% of the humanitarian work done by the Red Cross is carried out by volunteers!


Pick up garbage at a local park or trail. Make sure you bring gloves and a large garbage bag.


Serve meals at a local soup kitchen


Volunteer at the Ronald McDonald House. Find a local chapter and call to see how you can help.


Help at your local animal shelter. Call to see what services you can offer.


Volunteer at the Boys and Girls Club. You can find a local chapter and offer to help with anything from homework help to art lessons.


Make and deliver food to a new mom in your neighborhood. Call beforehand to ask about any food allergies/intolerances and what time they usually eat.

Dinners are a great way to help out, but you can also consider bringing some easy-to-grab breakfast foods such as muffins.

A basket of healthy snacks is also a great gift, and can include pre-packaged and/or homemade foods like granola bars, energy bites, etc.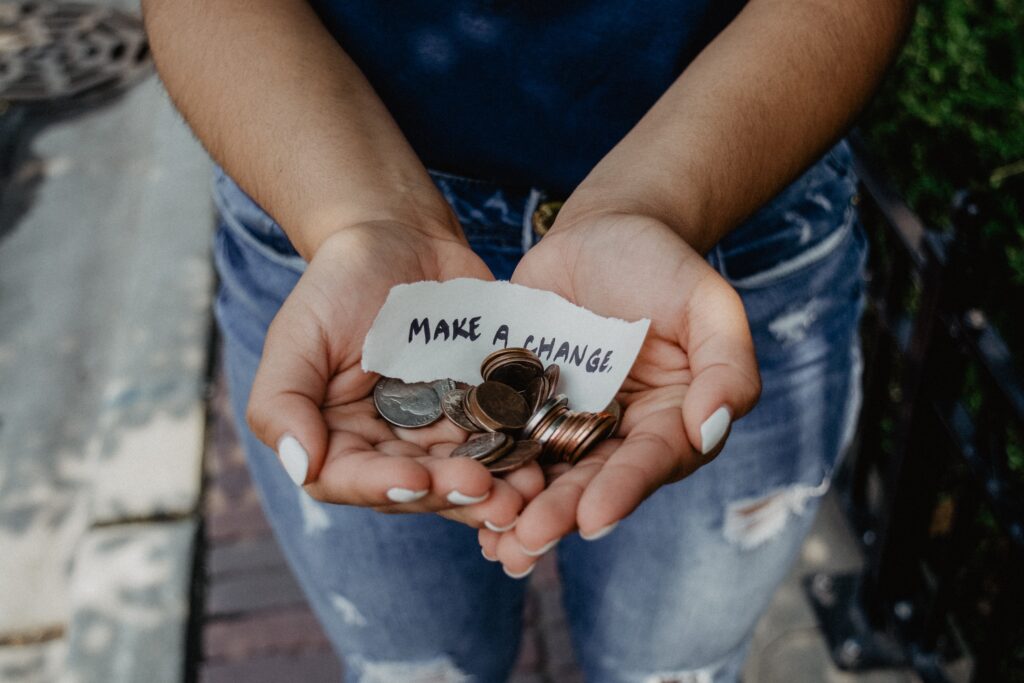 donate your resources
As mentioned above under Donate Your Time, Just Serve is an excellent resource if you are looking for organizations that might need donations.


Take non-perishable food to your local food bank.


Donate school supplies to a local school. Call the school ahead of time to see what supplies they need.


Donate your hair to Locks of Love or another similar organization. This is easy to do, you just need an extra 10 inches of hair 🙂


Give Christmas to a family in need.


Donate to Operation Underground Railroad. O.U.R is an organization that rescues children from sex trafficking and in the 5 years since they began, over 2,800 children have been rescued. It is a sobering topic but one that deserves our attention. Visit the O.U.R website to learn more and see what you can do to help.


Consider donating to Charity Water, a non-profit that provides clean drinking water to people around the globe.


Next time you clean out your closets, donate gently used clothing or shoes to a local thrift store or homeless shelter.


Donate your car to an organization such as Kars 4 Kids or Tow Kars of the National Kidney Foundation.


Donate to a children's hospital. Consider giving to St Jude Children's Research Hospital or contacting a local children's hospital.
Have an idea for a service opportunity that isn't on this page?? Please comment below or contact us – we would love to hear your suggestions!