Summer is here, and I know you're going to need allllll the salad recipes you can get in your arsenal!
I love an easy and cool salad for hot summer night dinners, it is the perfect meal during this season! Bonus points if it can be made ahead of time.
Chances are, you probably already have a few stand-by's, so we created a list with some fun types you probably haven't tried along with simple and classic recipes to get you started.
SUMMER SALAD RECIPES YOU'LL FIND HERE
If you're looking for salads, you're in the right place! We've included a selection from each of the following categories, in the order listed:
Green Salads
Pasta Salads
Fruit Salads
Side Salads
Vegan Salads
I think it's safe to say that you'll find some new favorites here! If you haven't tried a grape salad yet, be sure to try out the recipe you'll find below. It's a fun and unique one to bring to picnics or potlucks!
A NOTE ON PASTA SALADS
The trick to a good pasta salad is to avoid overcooking your pasta. Set the timer for a minute earlier than the minimum time, drain as soon as it's cooked al dente; this means that your pasta will have a slight bite to it.
Immediately drain your pasta and rinse in cold water until it is completely cooled. Be sure to allow all excess water to drain off before assembling your salad.
making salads ahead of time
Most salads can be made ahead of time, which is a huge bonus to me during the summer months! As a family, we're out playing much of the afternoon so it's nice to have something quick to assemble for dinner.
Of course, pasta and fruit salads are usually prepared in advance, but for any kind of green salad you'll want to prep your ingredients beforehand then store separately until it's time to serve. When you're ready to eat, pull everything out, add dressing, and eat!
WAIT! Pin these recipes for later!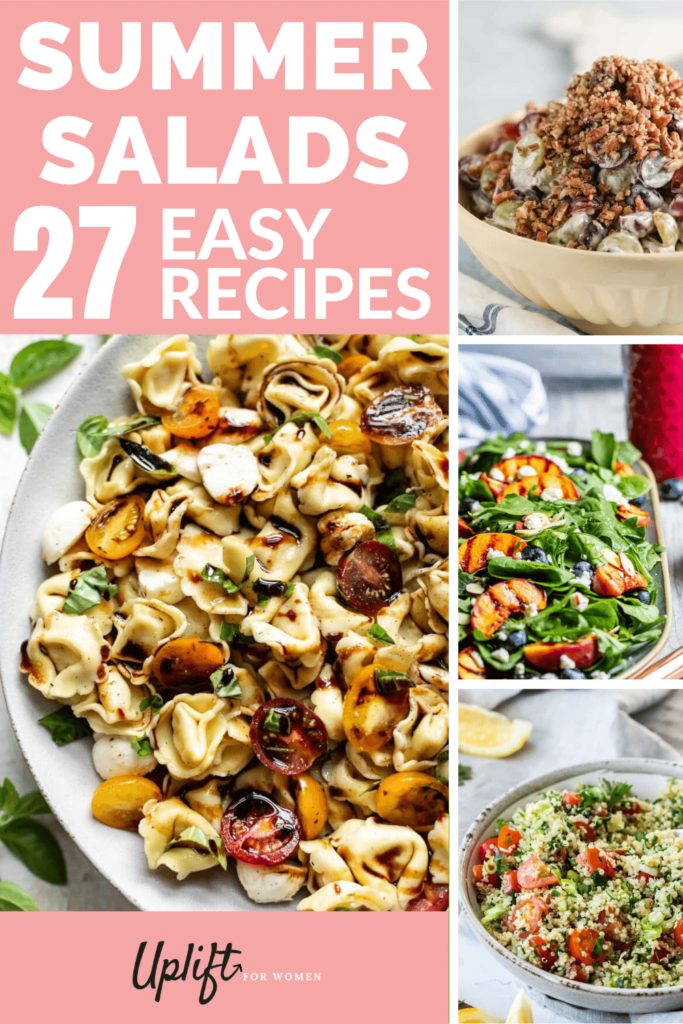 Summer Salad Recipes
From simple standbys to knock-your-socks-off, here are all the Summer salad recipes you'll need!