Looking for easy weeknight dinners? Hey, me too!
We've all been there. It's 5 o'clock, everyone is asking, "what's for dinner?" and you are digging through the fridge and pantry to find an easy dinner you can make in a jiffy.
your arsenal of easy weeknight dinners
I compiled a list of delicious, family-friendly meals you can pull from when you're looking for an easy weeknight dinner to make for your family. BONUS: Most of these recipes call for ingredients you probably already have stocked in your kitchen!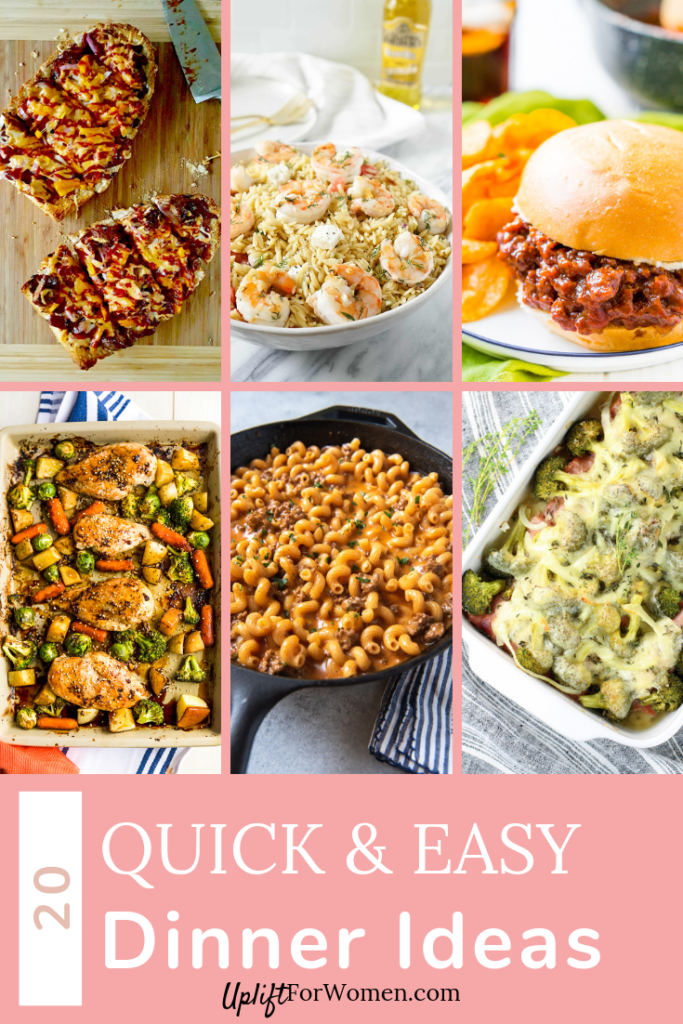 If you need a super quick solution, here are a few of my favorite easy weeknight dinners that don't require a specific recipe:
Quesadillas (keep pre-shredded cheese on hand & add meat and/or beans)
Chef Salad (I always keep boiled eggs in the fridge, add cheeses, lunch meat or canned chicken, beans, etc.)
Breakfast (waffles, French toast, pancakes, omelettes + toast, etc)
Nachos (load them up with veggies and/or meat!)
Pasta Bar (make a batch of pasta and serve with different grated cheeses, leftover meat, jarred sauce or pesto, etc.)
Sandwiches (pb&j, sub sandwiches, or tuna/chicken salad that you've made ahead!)
I hope you enjoy these easy weeknight dinners! When you try a recipe, please come back and let me know how you liked it. If you're following a keto meal plan, check out our easy Keto Dinners.
Happy cooking!
Quick and Easy Weeknight Dinners
20 easy weeknight dinners that are ready in 45 minutes or less! These recipes are simple, quick, easy, and use ingredients you probably have on hand.
Have you tried one of these easy weeknight dinners? We would love to hear about it! Comment below, or snap a photo and tag #UpliftForWomen on social media.
Join our community!
We would love to have you join our Uplift For Women community! Join our email list and follow us on Facebook, Instagram, and Pinterest.
Share the goodness! Tag @UpliftForWomen on social and use the hashtag #UpliftForWomen when you share uplifting experiences, photos, or quotes.