The holidays can be stressful and chaotic, but here at Uplift For Women we are all about simplifying! Make your Christmas morning more meaningful and less stressful with these easy make ahead Christmas breakfast ideas.
Earlier this week, we published a guide on Creating Meaningful Holidays. One of the ways we have cut out stress on Christmas day is by prepping meals ahead of time.
We have a tradition of making Gingerbread Waffle batter and a simple fruit plate the day before, then cooking and serving in the morning. We top the waffles with Reddi Whip and a drizzle of maple syrup, which is soooo good and super quick and easy, too!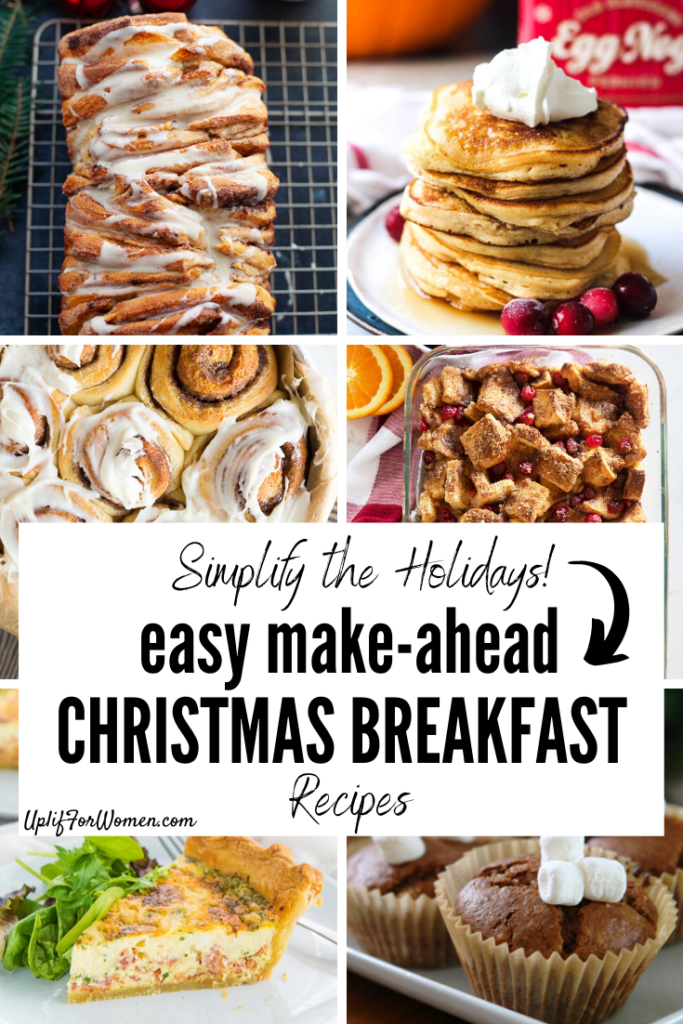 Making our breakfast ahead of time allows us to spend more time together as a family on Christmas morning, and cuts down on the stress of preparing food on Christmas day.
We've scoured the internet for more make-ahead recipes so you can enjoy a stress-free Christmas morning, too!
Do you have a favorite make-ahead recipe for Christmas morning? Please share in the comments below!
Below, you'll find everything from breakfast casseroles, to cinnamon rolls, to holiday-themed quick breads. All of these recipes can be made ahead of time and baked or reheated Christmas morning so you can spend the day with the people you love most.
If you're looking for gluten free options, we made an entire roundup of Make Ahead Gluten Free Breakfast Ideas for you because everyone should be able to have an easy and tasty breakfast on Christmas morning.
Easy Make Ahead Christmas Breakfast Recipes
Don't waste your time baking on Christmas morning when you could be spending time with your family! Try these easy make head Christmas breakfast recipes.