Busy weeknights? Lazy days? No worries! Check out this list of lazy vegan recipes for when you don't really feel like cooking.
If you're trying to least less meat, consider this your one stop for lazy vegan meals and simple recipes the whole family will love!
Whether you're looking for dump and go crockpot recipes, quick instant recipes, or easy dinners you can have on the table in less than 30 minutes, you'll find it here.
I'm sure the last thing you want to do on busy weeknights is open up a can of black beans again, so pick a few of these lazy vegan recipes to add to your menu rotation without adding cooking time to your already busy schedule.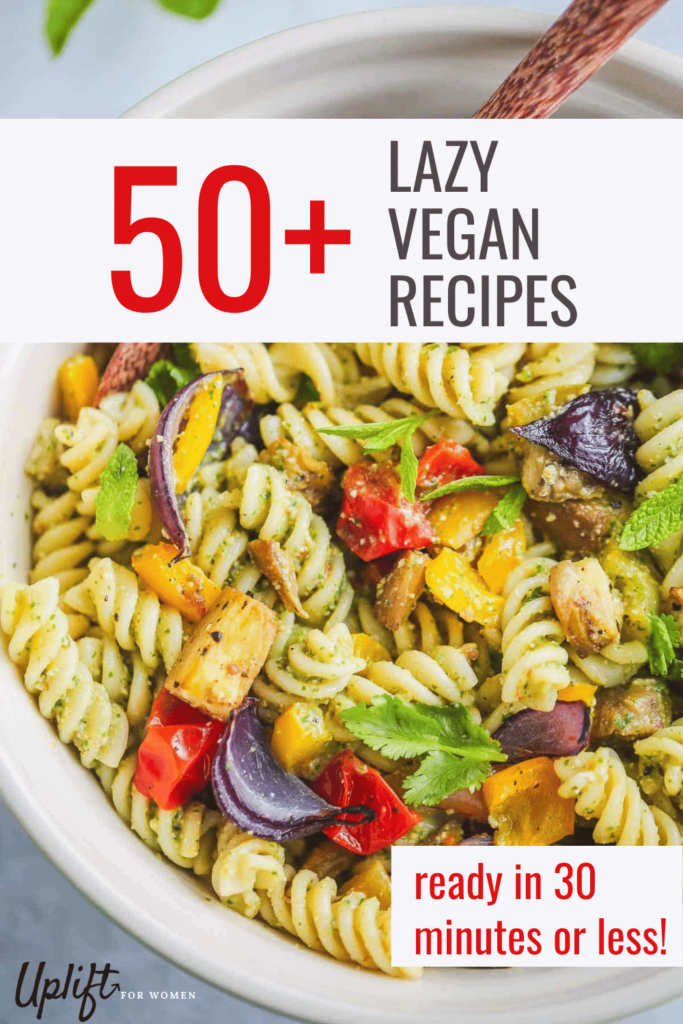 What is a lazy vegan recipe?
I'm sure this could mean many different things depending on who you asked, but here is my criteria:
Minimal ingredients, most of which you probably already have on hand. No strange ingredients here!
Fast & easy prep so you can get out of the kitchen and relax. I'm talking 10-15 minutes tops. Perfect for lazy days 🙂
Quick cook time. Most of the vegan recipes in this list are done in 15-30 minutes, and there are quite a few 10-minute recipes too.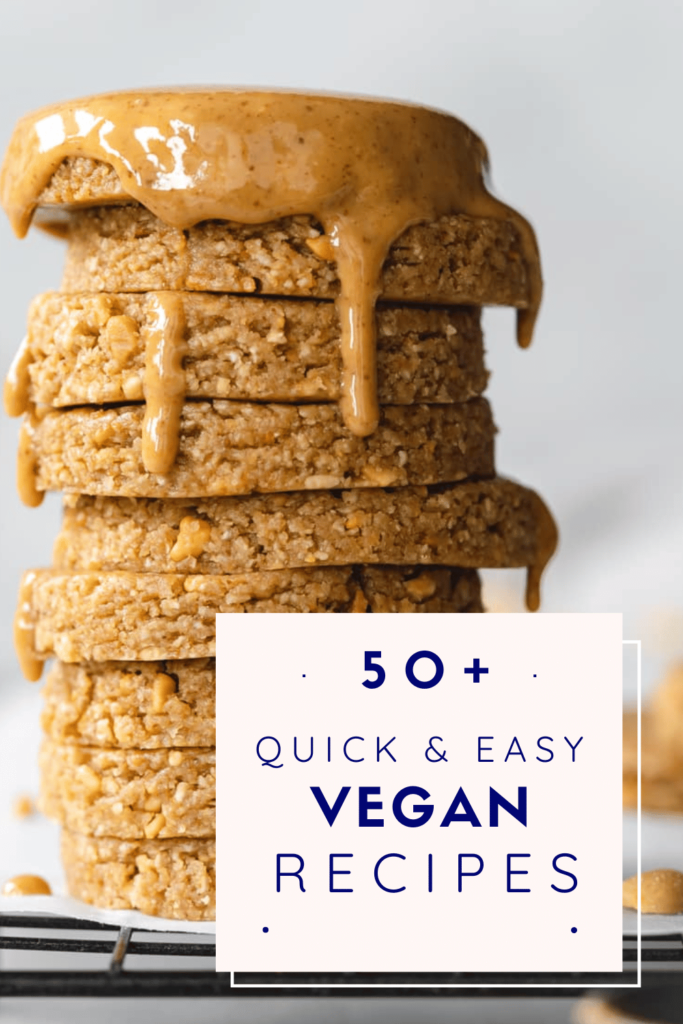 Meal prep to save time
One great way to save time in the kitchen is utilizing a batch system when prepping food.
The best part of scheduling a few hours to meal prep means you only have to wash dishes like knives and cutting boards once per week instead of every day, in addition to reducing the amount of time you spend cooking food and washing counters.
Here are a few things you can do during your scheduled meal prep time:
Planning and writing down meals and snacks for the week. Keep a running list of easy recipes that your family loves so that you can reuse them week-by-week.
Washing and chopping fresh vegetables and fresh fruit you'll be using for recipes and snacking. Most produce including red onion or green onions, sweet potatoes, bell peppers, butternut squash, kale, carrots, brussels sprouts, citrus fruits, grapes, melons, and even apples (if you toss with a little lemon juice) will keep well in the fridge for 4-7 days after being prepped.
Batch cooking grains you'll be using throughout the week. White or brown rice, quinoa, pasta, oatmeal, etc.
I like to do the above and put all the main ingredients into large containers to pull out as needed throughout the week, while others like to prepare easy vegan recipes and store them in individual containers.
I love these individual containers or these 2-compartment containers because they are affordable, freezer and dishwasher save, and also BPA-free.
Batch cooking easy vegan meals and storing them in individual servings works well for busy weeknights when everyone is heading different directions, or for those who often pack lunches for work or school.
Meal prepping doesn't have to take a lot of time. Here are a few ideas for easy meals you can put together with minimal effort and without a recipe:
Pasta with homemade or store-bought tomato sauce, or olive oil and seasonings. PRO TIP: Use a lentil or bean-based pasta for extra protein and nutrients.
Rice, quinoa, or barley with a vegan curry
Vegan burrito bowl with black beans, sweet potatoes, rice, and salsa
Quick salad with your favorite veggies
Whole grain bowls with roasted vegetables
Black bean tacos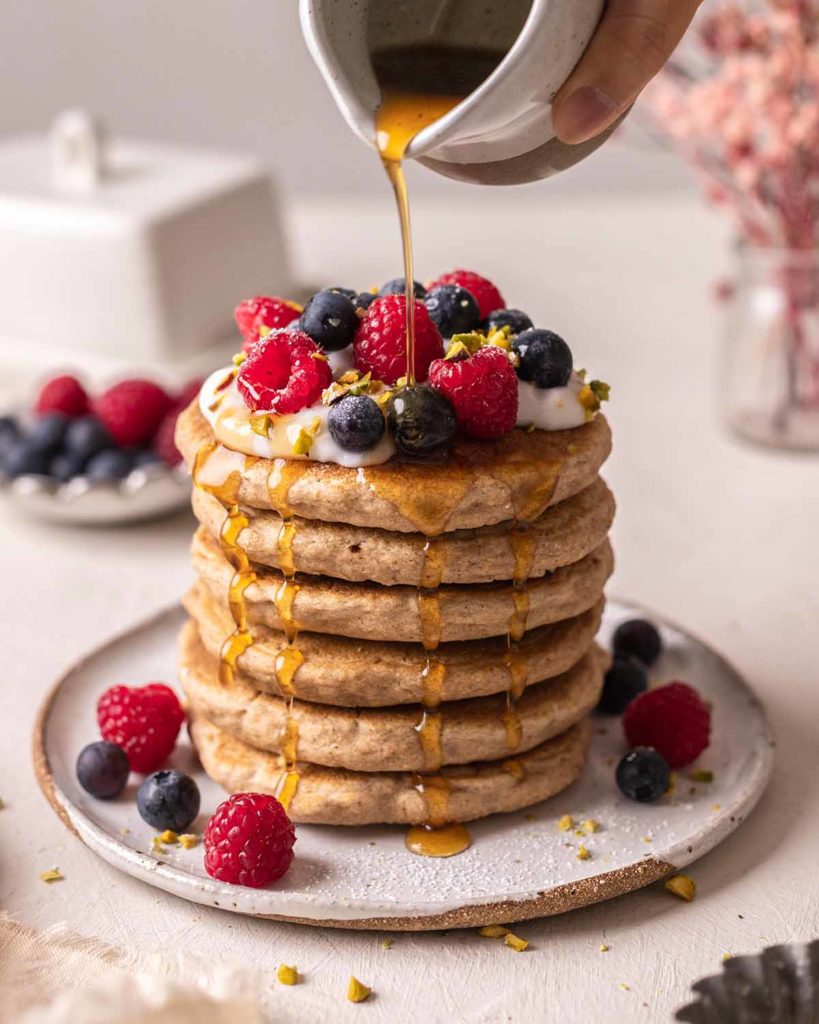 lazy vegan recipes for breakfast
Breakfast is the most important meal of the day!
To stay full and focused until lunch time, shoot for meals that are high protein and include some complex carbs in the form of whole grains such as oatmeal, whole wheat, or quinoa.
Here are some easy meals you can enjoy with very little effort and time:
Overnight oats
Avocado toast
Vegan yogurt (I like ones with oat or coconut milk base) + granola
Tofu scramble (see the recipes below!)
Chia pudding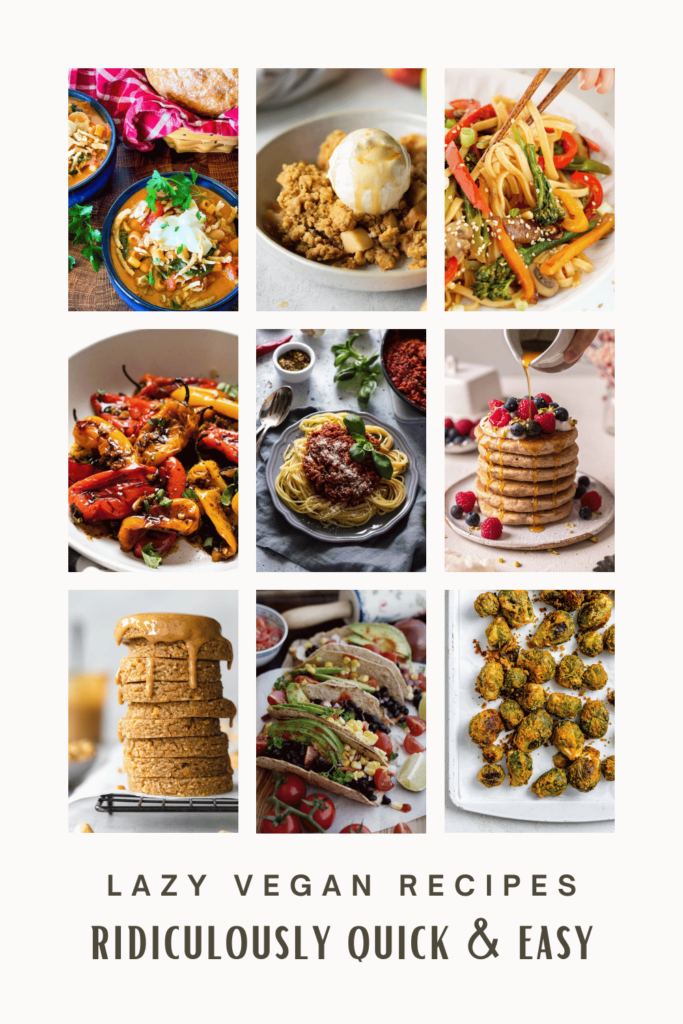 easy vegan sides
If you're trying to up your intake of plant-based food, adding some simple vegan sides to meal time is an easy way to do it!
Below you'll find a lot of easy vegan recipes for sides, or you can just be basic and make a side salad, toss root veggies in olive oil and bake on a sheet pan, bake potatoes or sweet potatoes, or serve the produce you sliced during your weekly meal prep!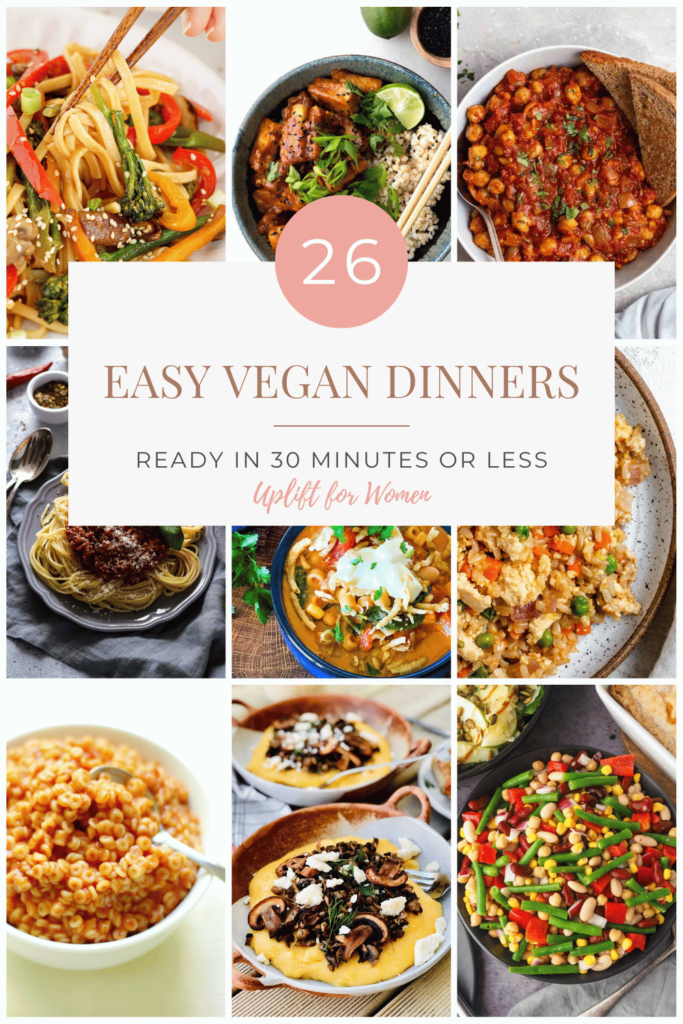 THE ULTIMATE LIST OF LAZY VEGAN RECIPES
Below, you'll find over FIFTY recipes for busy weeknights, on-the-go breakfasts, and everything in between.
Because there are so many, I wanted to make it easier for you to search for the specific recipe you're trying to find, so here is the order of appearance:
Easy dinners (many are done in 10-20 minutes)
Quick breakfasts, including some great on-the-go options
Favorite veggies and sides from flatbread to brussels sprouts, find the perfect side dish for your table.
Snacks perfect for after school, lunch boxes, sports practices, or any other time you need something quick and satisfying.
Desserts to satisfy that sweet tooth with simple ingredients and a few minutes of your time.
Lazy Vegan Recipes
Looking for a list of lazy vegan recipes? Try one of these easy dinners, or fix a bowl of high protein grains like quinoa and serve alongside one of the easy sides found below!
Be sure to scroll to the bottom for quick and easy snack ideas and decadent (but surprisingly easy!) desserts.
This entire collection of lazy vegan recipes can be made with few ingredients and minimal effort.